Frugal meals can make such a difference to your budget because oh my goodness food bills can be high can't they!
Learning to cook on a budget can make a massive difference enabling you to keep those supermarkets shops under tighter control.
Here are some ideas for lovely frugal meals
Frugal meals – the veggie version
I hope you like the look of these frugal meals and they help you save a few pennies too.
Spice pumpkin casserole
A superb way to use up your pumpkins!
Frugal meals – Peanut Butter and Coconut Curry
Oh my goodness this recipe looks delicious and it is slimming world friendly too – nice! Take a look at the peanut butter and coconut curry recipe
Mushroom mac and cheese – Frugal Meals
This tasty twist on a traditional Mac and cheese gives it depth of flavour with the addition of mushroom- a vegetarian favourite. It can also be made cheaply so a top choice for feeding a hungry crowd.
Chickpea nuggets
An easy and healthy meatless nugget that the kids will love! Gluten-free & Vegan Chickpea Nuggets that are top 8 allergy-free, grain-free, and have a secret dose of veggies too! A deliciously fun plant-based recipe for little hands at lunchtime or dinner!
Best ever roast potatoes on a budget
Check out these best ever dill roast potatoes which you could serve with aubergine dip- YUM!
Lemon chickpea and rice casserole – Tasty Frugal meals
A super easy dump-and-bake meatless meal for the family! This Lemon Chickpea and Rice Casserole is a healthy, hearty, vegan, gluten-free, and allergy-free dinner idea! Dairy-free, creamy, and zesty, this casserole recipe can be made ahead of time, is freezer-friendly, and a comforting weeknight meal everyone will love!
Mujaddara – Exotic frugal meals
This delicious Mujaddara recipe is an entree made with rice, lentils and rich spices for an easy middle eastern dish that will wow your family for dinner.
Vegan Biriyani
This Restaurant-style Vegan Biryani is cooked in a pressure cooker in under 30 minutes, but can also be prepared on the stove-top. I use my own Biryani Spice Blend, which makes this an extra flavorful Vegan Biryani Recipe.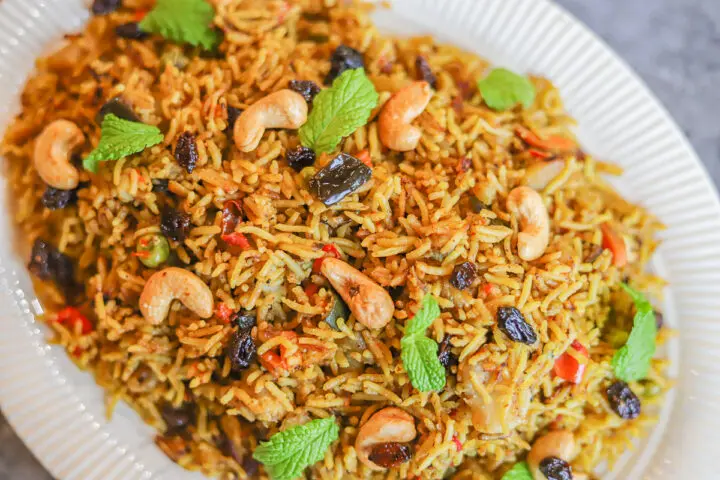 Chickpea salad – frugal meals can be fun
This yummy chickpea salad is easy to make, won't break your wallet, and will provide you with all the nutrition you need. It's a refreshing lunch the kids will love.
Lentil Bolognese – hearty frugal meals
Hearty, wholesome and full of flavour, this
vegan red lentil bolognese
is cheap and easy to make, as well as being a satisfying family meal!
Frugal meals that are super simple – One pot pesto pasta
Only 3 ingredients are needed for this mouthwatering one pot pesto pasta and it's only $1 per serving. Perfect for a weeknight meal or quick meal prep. Love this for a family meal and you can find more amazing family meal ideas here
Veggie pork n beans – frugal meals for kids
This veggie "pork" and beans is really cheap to make, especially if you use dried beans. It also makes loads so you can freeze portions for a rainy day.
Slow cooker root veg stew
This slow cooker root veg stew was made from yellow sticker items. Once you've made your stew you can serve it with dumplings, make it into a pie or even make a batch of pasties with it.
Cheesy Leek Gratin = Frugal Meals can be AWESOME
This cheesy leek gratin makes the most of a super-cheap and plentiful winter vegetable. Serve it as a main or a side, it's a real crowd pleaser
Scrumptious frugal meals
Stuffed Bell Pepper Burrito Style
These only need a few veggies, some rice and the black beans make a far cheaper mince alternative! Don't these stuffed bell peppers look LUSH!
Vegetarian Gardeners Pie – staple frugal meals
Veggie gardeners pie is super easy and cheap to make and easily adapted – nice and warming too.

Frugal Meals Veggie Pizza Style
This is a very frugal veggie pizza recipe. It has everything: a crisp Italian base, tasty veggies, oozing mozzarella and topped off with fresh rocket drizzled with olive oil is a recipe made in pizza heaven.
Homemade Pad Thai (This frugal meal is so much cheaper than take out)
This
Vegan Pad Thai
is so quick and simple to prepare. It's packed full of flavour and a colourful array of wholesome rainbow vegetables, and it only takes 15 minutes to make!
Cauliflower and Chickpea Coconut Curry – Frugal Meals can be fakeaways
This
Cauliflower and Chickpea Coconut Curry
is pure comfort in every bite! The mouth-watering sauce is made with tomatoes, garlic, onions, ginger, serrano peppers, curry powder, and
coconut milk
. It's a little spicy and zesty with a hint of sweetness!
Cheap meals – Black bean soup
Rich and hearty
black bean soup
loaded with veggies and greens and seasoned with right amount of spices to make this a finger licking and healthy vegetarian black bean soup that tastes very similar to Panera bread black bean soup.

And we have another recipe for black bean soup here. Healthy and affordable, this Latin-inspired black bean soup will be popular with the whole family. It's also very easy to make and super versatile as you can switch up the toppings.
Aloo Matar – Spicy frugal meals
Aloo Matar
or Indian style Potato and Green peas curry is an everyday comfort dish made with very basic spices and ingredients. Making it in instant pot makes it an even more easy and
quick
dish than it already is.
Veggie Chilli – tasty frugal meals
This
easy Slow Cooker Vegetarian Chili
is a dump-and-go crockpot meal you can set and forget! This healthy three bean chili is vegan, gluten-free, allergy-free, and full of plant-based protein, veggies, and bold Southwest flavors! A comforting dinner for a crowd or meatless make-ahead and freezer-friendly meal you can meal prep!
We also have this healthy easy veg chlli alternative recipe . This Vegetarian Chili takes no time at all to make and is absolutely delicious! Prep in advance for easy week day lunches!
Frugal Meals can include Roasted Vegan Cauliflower Soup
This Roasted Vegan Cauliflower Soup is pure comfort in a bowl! It's bursting with robust flavors and it's oh-so-creamy!
Avocado Salad – Posh frugal meals
This Arugula Avocado Salad is made with a homemade Lime Vinaigrette that is out of this world! It's so easy to make and perfect to prep ahead.
Cauliflower mash make the nicest of Frugal Meals
An easy and affordable cauliflower mashed potatoes that can be done using frozen cauliflower rice
Ratatouille – Frugal Meals – Vegetarian Cooking on a Budget
This Italian twist on the classic French provincial ratatouille recipe makes it the perfect year-round comfort meal. Inexpensive, kid-friendly, and versatile as a lunch or dinner option, it's going to be your new favorite
Veggie fried rice – Fab Frugal Meals from Leftovers
This veggie fried rice used up leftover rice and frozen veggies for a truly frugal and healthy meal. You can add in your favorite protein source to fill you up even more.

Pumpkin Soup – Using what you have frugal meals
This deliciously roasted pumpkin soup will satisfy and soothe on any cool day.
Sweet potatoes and egg make simple frugal meals
Kale butter bean and tomato stew
Ready in under half an hour, this simple stew is nutrient-dense, comforting, intensifies over time, and is perfect for freezing.
Coconut milk-free Thai curry – stunning frugal meals
This is a coconut milk-free Thai curry that costs $1.60 per serving. It's an exotic and delicious way to use up your leftover veggies.
Oh my goodness aren't these frugal meals just simply amazing what talented bloggers there are out there. Truly impressive
Do you have any frugal meals to share with us? The more the merrier – saving money has never been so tasty
Frugal Meals – Vegetarian Cooking on a Budget – a huge thank you to all the contributors