Today – How to get the best value microwave
Have you heard of Idealo? It rocks!
Idealo.co.uk is a price comparison site which scans more than 14,000 retailers and has more than 300,000 products listed on it's site. It is such a useful website.
I used it recently to purchase a microwave. Ours was old and dilapidated and as part of out home makeover it really needed updating.
How to get the best value microwave
Idealo suggested I review their service so I chose to review purchasing a microwave.
I went to the section headed microwaves and typed into search 'cream microwave' (all I knew was I wanted it to be cream to match our kitchen units..aren't I technical! ) Up came a huge list of cream microwaves from lots of different companies . It gave the the price ranges for each one and told you how many different shops you could compare for that item.
I chose the Daewoo Cream Touch Control Microwave prices ranged from £53.64 right up to £72.99. I chose it due to the price and because it looked quite retro and fitted in nicely with our kitchen.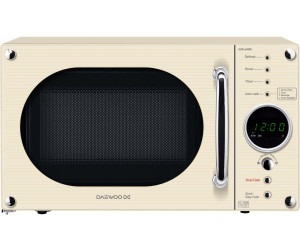 I obviously went for the cheaper option (which was actually the second-lowest price…you see Idealo also tell you postage costs.) In the end, it saved nearly £20 buying from this store than the most expensive shop for the exact same product. Thanks to Idealo you see the best value shop to buy from straight away,
Isn't that clever? (and the service is totally free.) Do not shop online without trying Idealo out first it could save you hour searching around for the 'best deal' and even then you might miss it. I have never heard of some of the best value shops.
I am delighted with my gorgeous new Daewoo and it has all sorts of fancy functions and looks fabulous.
How to get the best value microwave by review
On Idealo you can find loads of reviews too both products and the shop by both industry experts and consumers.. Personally, these really help me when it comes to making decisions as I rely heavily on reviews.The website is also available as a price comparison app for both Android and iOS.
and you can either type in the same of a product or scan a bar code to get an immediate price comparison. Now that is useful!
I must say I am very impressed with Idealo. For people like you and me who need to keep in the budget this is a great way to shop.
Last year Idealo proudly sponsored the best thrifty blog at the MAD blog awards for which my other blog Baby Budgeting was a finalist. Our sites are a great fit for families looking to save that little bit extra.
Disclosure: Idealo provided me with this microwave for the purpose of review my opinions are entirely my own. How to get the best value microwave is a collaborative post.

You might also like my post on how to buy essential appliances on a budget